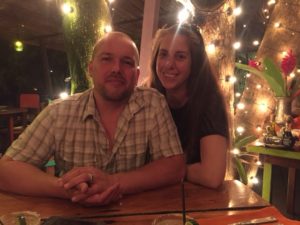 We are Matthew and Juliet, the proud owners of Physis Caribbean Bed and Breakfast.
In early 2016, we were fortunate enough to stumble across a Craigslist ad for Physis Caribbean.  We quickly made our way to Costa Rica to find that Jeremy and Emily (dynamic duo and former Physis owners) had transformed this jewel of a structure into one of the most beautiful Bed and Breakfasts in all of the Caribbean. With only 4 rooms, we are able to give each and every one of our guests the one-on-one attention they need. Once you visit Puerto Viejo and the surrounding area, you will see why we decided to relocate here. Come stay with us and experience an amazing vacation surrounded by pristine, sparsely populated  beaches, and amazing wildlife in the lush, tropical jungle.
UPDATE: Our dear Canadian friend, Erica,  will be your attending host at our lovely Bed and Breakfast. We are delighted and  thrilled to have her in our Physis Caribbean family and she will be taking perfect care of you.
–Pura Vida