Welcome to Physis Caribbean Bed and Breakfast.  Physis means nature in Latin; since we are located in one of the most beautiful countries, next to the warm and tropical Caribbean Sea, in-between one of the most diverse rain forests in the world, we thought Physis Caribbean Bed & Breakfast was the perfect name for our perfect Paradise.
There is beauty around every corner and nature surrounds our little oasis. Our small boutique hotel consists of only four private rooms and our attention to detail cannot go unnoticed. We have completely transformed the Bed and Breakfast into a relaxing retreat for everyone to enjoy.
We have used many of the rich and colorful local Costa Rican woods in the design of the hotel, lined the gardens with tropical plants native to the area, and added flowing fountains for relaxation and serenity. For the interior of the rooms we used again the local woods of Costa Rica and then we added a touch of luxury and comfort.  From the pillow-top mattresses and fluffy towels to the ice cold air-conditioning, we know comfort is a must and we have it all for you.
All rooms come equipped with air conditioning, a safety deposit box, ceiling fan, dehumidifier, private attached bathroom, flat-screen TV with either free Netflix or free satellite cable, and free Wi-Fi.
Each morning you will be greeted and served a delicious breakfast prepared by the owners Juliet and Matthew in the upstairs dining area that overlooks the tree tops. You will be serenaded by birds and surrounded by nature's exotic animals.
We encourage our guests to discover the many wonders of Puerto Viejo and it's surrounding area. Depending on your interests, we have many recommendations for exciting tours and excursions in the area. As for dining choices, we have a long list of our top-recommended restaurants nearby.
We take pride and joy in everything we do and everything we offer at Physis and we promise to make every effort to ensure your stay at Physis is unforgettable and perfect.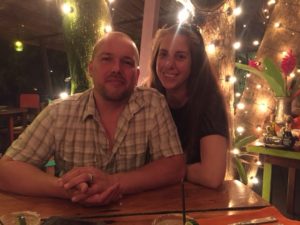 We are Matthew and Juliet, the proud owners of Physis Caribbean Bed and Breakfast.
In early 2016, we were fortunate enough to stumble across a Craigslist ad for Physis Caribbean.  We quickly made our way to Costa Rica to find that Jeremy and Emily (dynamic duo and former Physis owners) had transformed this jewel of a structure into one of the most beautiful Bed and Breakfasts in all of the Caribbean. With only 4 rooms, we are able to give each and every one of our guests the one-on-one attention they need. Once you visit Puerto Viejo and the surrounding area, you will see why we decided to relocate here. Come stay with us and experience an amazing vacation surrounded by pristine, sparsely populated  beaches, and amazing wildlife in the lush, tropical jungle.
–Pura Vida